One of the greatest myths – if not the greatest, that covers the vegan diet, is the protein myth.
People are under the impression that those who do not eat meat cannot be equally strong to those who do due to the insufficient protein intake from plant-based foods.
As with most issues, this, too, is a result of misinformation. Such ignorance creates huge obstacles in promoting education and leads to narrow-mindedness. Unfortunately, everyone thinks they know all there is to know about plant-based diets and spread false information, which results in the perpetuation of misinformation.
It is quite common from the moment someone declares he is on a vegan diet, for people around him to suddenly transform into nutrition or evolutionary biology experts and go on a rampage, giving advice on how to protect one's self from the imminent sicknesses and weaknesses to which a plant-based diet will eventually lead.
What is true and what is false?
Firstly, we have to mention that the average omnivore who lives in the western world, more than likely intakes more protein that he actually needs, due to the consumption of animal products and by-products.
Most Americans, for example, consume foods that provide them with more than twice the protein a single human needs.
The only truth regarding the difference between animal and plant protein is that plant protein does not have the same absorption rate as animal protein. This difference is only of 0.1! That means that there is 10% reduced bioavailability, meaning that if someone needs 0.8 grams of protein per kilogram of bodyweight as an omnivore, when he goes vegan, he will need 0.88 grams. This difference is miniscule, while the overall benefits of going on a plant-based diet makes the scales tip noticeably towards the plant based diet, as Giannis Mavridis, a sports nutritionist, in his speech on "Vegan Diet and Athletic Soundness: the path to optimizing performance" is explaining (Unfortunately it has no English subtitles otherwise we would suggest you to watch it, because of its richness in detail).
While waiting for J. Cameron's (producer of the "Titanic" and vegan activist) "The Game Changers" documentary, which will debut on February 2018, we have decided to mention some of the top vegan athletes, so as to make it more obvious that veganism and athleticism are two completely compatible concepts.
We have chosen to introduce male and female athletes of various sports (with different dietary requirements) who follow a vegan diet, so that we can debunk the myth once and for all, as they all have some great achievements on their records like earning gold medals, breaking Guinness records etc. Some are veg(etari)ans since birth, while others made the change at some point during their lives…
Frank Medrano – Calisthenics
Frank Medrano ate meat for 30 years, but has gone vegan since 2014. Along with his two friends, Noel Polanco and Dan Attanasio, they run the Vegan Calisthen-X page, through which they inspire and advise the world about veganism and calisthenics. Watch the following video, which speaks for itself:
Frank's page: https://www.frankmedrano.com/
       2. Scott Jureck – Ultramarathon
Scott Jureck is an American ultramarathon man who was won many highly regarded competitions like the Hardrock Hundred (2007), the Badwater Ultramarathon (2005, 2006) and the Western States 100 Mile Endurance Run (1999 – 2005). In 2010, he set a new American record for distance runners, by running 165.7 miles in 24 hours (about 8 minutes and 42 seconds per mile). Scott Jureck has been following a vegan diet since 1999!
Scott's page: http://www.scottjurek.com/
Kendrick Farris – Weightlifting
Kendrick Farris is the only weightlifter of the male American team that took part in the Rio de Janeiro Olympics. He went up a category as he made a new record for America by lifting 337 kilograms (!) in the American weightlifting team trials for the Olympic Games. He has been vegan since 2014.
Kendrick's Facebook page: https://www.facebook.com/kendrickjfarris/
Alex Dargatz – Bodybuilding
Alex Dargatz became famous on December 2005, when he earned an international bodybuilding title, something that happened 5 years after he went vegan. The cause of this change in his life was due to the violence in factory farms. Although his motives were "ethical, environmental, mental and health reasons (in that order)", Alex soon realized that it was easy to find delightful food that covered his requirements as a bodybuilder in training.
More: http://www.greatveganathletes.com/alexander-dargatz-vegan-bodybuilder
Nate Diaz – Boxing and Brazilian Jiu Jitsu
Nate Diaz is a mixed martial arts athlete and winner of Ultimate Fighter 5. Nate declares that he is proud to be vegan since he turned 18 years old (he now follows an exclusively raw vegan diet), while he has inspired Alex Caceres to follow the same path.
David Haye – Boxing
David Haye says that adopting a vegan diet (since 2014), has made him feel stronger than ever while also helping him go back into the ring from which he was absent for 3 years due to a serious injury. This result seems to answer people's questions regarding whether an exclusively plant-based diet is suitable for a martial arts athlete, as in the 4 months since his return he has won two fights. As he himself says "I watched a documentary on television about how animals are bred, how they are killed and how they are prepared for eating. I saw all these cows and pigs and realized that I couldn't be a part of all that anymore. It was horrible. I did some research so I could be sure that I could still get enough protein to fight and, when I realized that I actually could, I stopped. I'm never going back."
Patrik Baboumian – Strength Athletics and previously Bodybuilding
Patrik Baboumian, who recently visited our country for the third Vegan Life Festival, holds several impressive titles and records. Firstly, he holds the world record in yoke walk since 2015, when he managed to surpass himself by lifting 560 kilograms, breaking his previous 555 kilogram record. In fact, the 2015 record was done in 28 seconds less than his previous effort. Meanwhile, he holds the world record on log lifting in the 105 kilogram category, while also holding the title of the strongest man in Germany. Patrik went vegan in 2011 and two years later, in 2013, he said: "This is a message to all of you out there that think you need animal protein to be strong. After two years of being vegan I am stronger than ever and I keep getting better day after day. Don't listen to those who call themselves nutrition gurus or the supplement industry that tries to tell you that you need meat, eggs and dairy to get enough protein. There is a variety of plant sources of protein and your body will thank you after you stop feeding it dead food. Go vegan and feel the power!"
We advice you to listen to his story from himself:
You can watch his interview with Happy Cow here: https://www.youtube.com/watch?v=Kf53m2HHIPs
David Carter – Rugby
David Carter is a 26-year-old defender in the Oakland Raiders. After watching the documentary "Forks Over Knives", he decided to go on a vegan diet, realizing that all his efforts, as he himself said, to become stronger were killing him in the end. Just two months after this change, David made the connection with the ethical side of this decision and recognized that this diet not only helped him become stronger, but was also the only humane diet that anyone could follow. He now does not just compete because he loves the sport, but because he thinks that by having this position while on a vegan diet could be food for thought for many people. He fights for a better world.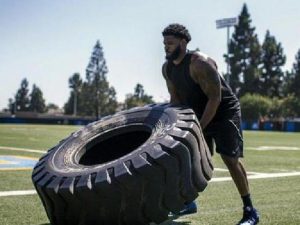 More about David on his personal website: www.the300poundvegan.com
Steph Davis – Climbing, BASE Jumping and Skydiving
Steph Davis is a world renowned climber, BASE jumper and skydiver, while being the only woman who can climb a mountain by herself at a climbing rate of 5.11. She has been vegan for the last 14 years and, as she claims, a plant-based diet has helped her gain more capabilities during her training.
Steph's personal blog: http://stephdavis.co/blog/why-im-vegan/
Dimitris Kehagioglou – Ultramarathon
Dimitris Kehagioglou has been a runner for the past 40 years. He started as a track athlete and has been an ultra distance runner for the past 25 years.He has participated in races of 50km to 1650km, has finished 5 times in the Spartathlon, which are 24 hour – 6 day races indoors and outdoors, as well as participating in mountain races such as ROUT and various 100 mile races in Great Britain. In 2011, he crossed the international E4 mountain path, which covers all of the mountainous areas of Greece and Crete, along with Loukas Pratilas. He traveled 1650km in 34 days. He has been vegan for more than 20 years and is one of the first members of Vegan Runners UK. The past 25 years, he has offered volunteer work in animal and environment-friendly organizations and is a member of activist groups in various parts of the world.
Molly Cameron – Cycling
Molly Cameron specializes in a kind of professional cycling that has special requirements, as during the race, the athletes must often lift their bicycles and run with them in their hands while jumping hurdles that they couldn't cross while on a bicycle. Molly became vegan 17 years ago, when she got into professional cycling. As she says: "eating organic whole foods maintains my energy levels and my mental capacity stable. It is the logical step when you live a hyperactive and conscious life." Finally, Molly owns her very own 100% vegan bicycle shop.
Molly's personal website: http://mollycameron.pro/
Barny du Plessis – Bodybuilding
Barny du Plessis grew up as a vegetarian until he was 18, when he started eating meat because of the myth surrounding protein. Despite that, he never introduced the consumption of pigs into his diet, because, having worked in a factory farm that processed pigs, he could not get over his traumatic memories of that period, something that eventually led him to adopt a vegan diet a few years later.When he earned the highly desirable Mr. Universe title, he suffered from depression, as he says, because he felt that he had no other purpose in life. He was ready to quit in his forties, when he and his wife decided (Josie earned the title of the strongest woman in the United Kingdom in 2010) to adopt a vegan diet. He then started to see noticeable better results in his training compared to half a year ago. While eating meat, he had acquired various health problems (digestive issues, hiccups, hernia). On the other hand, as he mentions, the vegan diet made him stronger, more energetic, with less fat and more muscle mass and finally with increased endurance. Something that must be noted is that, as many athletes who follow the same diet have said, recovering from injuries is much faster than before. All of the above led him to decide to make showing the world that we can live a healthy, happy and prosperous life without the exploitation of animals, his life goal.
Jehina Malik – Bodybuilding
Jehina Malik has been vegan since birth and has participated in professional bodybuilding competitions since 19. She won the 2013 NPC Eastern USA Bodybuilding Championship in the lightweight category.
Jehina's Youtube channel: https://www.youtube.com/user/jehinamalik1
14. Tia Blanco – Surfing
Tia Blanco, just 19 years old and vegan since 2013, is considered an athletic phenomenon. Some of the reasons why is that she has ranked as one of 50 best surfers in the world by World Surf League, she earned her first medal in 2015 (at 17 years old) in the International Surfing Association (ISA) Open Women's World Surfing Championship and also came back to win the next competition in 2016 for the same title. She grew up as a vegetarian for ethical reasons because of her mother and went vegan due to the influence of the "Glass Walls" video and "China Study" book.
15. Forest Green – Football Team
We left the only football team whose players all follow a vegan diet and train in the most environmentally – friendly football field for last. Forest Green, which has existed for 127 years before deciding to collectively change their diets, managed to enter the Football League for the first time in 2016. This "resurrection" is attributed to the owner of the environment company "Ecotricity", Dale Vince, who bought the team in 2010 and has since invested many millions, in his effort to create a profile that promotes environmental sustainability for Forest Green. One of the basic steps that were taken in this direction was for the field to draw energy from renewable sources (wind and solar power) as well as having a water recycling system. Despite that, in the context of an even greater effort, Dale Vince has started the construction of the only field 100% made of wood (designed by the world renowned architect, Zaha Hadid). Mark Cooper, the team manager, has adopted the vegan philosophy and has appointed the position of chef to Em Franklin, who cooks vegan food for all players as well as the team staff. Finally, vegan food is sold to the crowd during matches.
Forest Green's website: https://www.forestgreenroversfc.com/ 
If you want to get to know how to build your own workout routine, please check out a very comprehensive piece with advices from a two-time Olympian here.
Elisabeth Dimitras